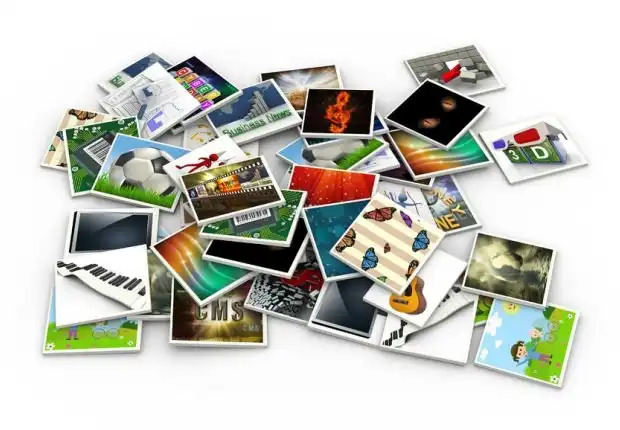 Humans are damn near helpless and hopeless without habits. Specific tasks, actions and responsibilities must be completed every day, and at the same time and in the same place, to lead any kind of meaningful life. As the old saying goes: Some people are so habitual that you could set your watch by their actions. Growing as a photographer, whether hobbyist, amateur or professional, and enjoying the process, is essentially impossible without a long series of photography habits: cleaning your equipment, checking your memory cards and batteries, holding your camera "correctly," using the same exposure formula for specific shooting conditions, etc.
Many photographers, however, have still not made backing up their computer files (of all kinds) the important habit it should be. I think part of the reason is that we are all still a bit starry-eyed about computers. We create a file, give it name and save it; and it happens so quickly that it makes it easy to move to the next task and accomplish more during less time, which, after all, is one of the primary benefits of a computer. It's time to wipe the stars from our eyes and return to Earth, however, and realize that computers are devices conceived and built by humans, which means they can fail…and they do!
Backing up files is the only means currently available to protect us from the imperfections of computers, hard drives and all other storage devices. That's why The American Society of Media Photographers recommends the following 3-step backup plan:
Keep 3 copies of any important file (a primary and two backups).

Store files on 2 different media types (e.g., hard drive and optical media), to protect against different types of hazards.

1 copy should be stored offsite (or at least offline).
Nothing particularly difficult to understand here; the difficulty for many photographers is the execution of this plan. The reasons you need as foolproof of a backup plan as possible should be obvious, especially to professionals. As important as it is to protect your client files, so they can order more photos ad infinitum, having a file backup plan is a direct reflection of your professionalism and integrity. You don't just lose "a" client's files, but potentially all future clients who might have been willing to put their trust in you.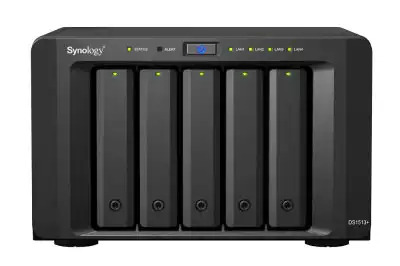 Hopefully, you are thoroughly frightened about the nightmare that could become reality if you don't make file backups a habit, and to the point of obsessive redundancy. Eliminating your fear (and sleeping soundly at night) begins with adding the Synology DS1513+ scalable network attached storage (NAS) device to your computer network. Here is the foundation of your file backup plan because the DS1513+ is easy to setup, streamlines the data management process, centralizes your files so they are quickly accessed and shared and has the flexibility to increase capacity, as your growing photography business needs it.
The people at Synology know that what photographers hate most about computer work is a lack of speed, so they built the DS1513+ with a dual-core CPU and expandable RAM. With 202.34MB/sec writing and 350.94MB/sec reading speeds, the DS1513+ is what every professional needs who is adding video to their repertoire of services.
As equally as important is reliability. You want to maximize the use of your time to find new clients, shoot their projects and prepare their files…and the faster and more reliable you can perform these tasks, the more clients you can serve in a given amount of time. Synology Hybrid RAID (SHR) has taken redundancy and reliability to that obsessive level you require as a professional photographer. This automated RAID management system stores content on 1 or 2 additional disks, so if as many as two disks are lost, the data volume is still accessible. In addition, SHR allows you to mix drives and expand storage as you need it, which any photographer will find easier to use compared to standard RAID levels. Unexpected hardware failure can still occur, but you can sidestep any obstacle to your performance and productivity with the help of the DS1513+. When drives do have to be replaced, this Synology NAS's hot swappable drives shrink downtime to a minimum, so you won't miss any client deadlines.
The people at Synology also know that photography files grow at a rapid rate, which is often why many photographers don't do a very good job at backup. The Synology DS1513+ has the flexibility to grow with your photography business. First, you can connect it to dedicated expansion units for immediate additional storage. As your files increase exponentially, so can the DS1513+, adding 6 additional terabytes to its initial 54TB capacity when paired with two DX513 expansion units.
Making backups of your photo files a habit you'll be happy to acquire and follow without fail begins with the Synology DS1513+ NAS. There's so much more to learn about this storage powerhouse and you will when you click here.
PhotographyTalk is pleased to welcome Synology as one of our vendor partners and encourages you to discover all the reasons it is your best partner when it comes to backing up your files.
Your feedback is important to thousands of PhotographyTalk.com fans and us. If this article is helpful, then please click the Like and Re-Tweet buttons at the top left of this article.