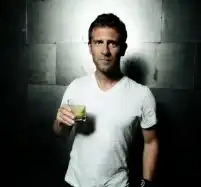 No professional photographer, such as Chase Jarvis, is touched by a magic wand or sprinkled with fairy dust as a child, propelling him or her toward inevitable success and fame. As a youth and young man, Jarvis was totally committed to the sports he loved, becoming a star athlete in many. Because they were hobbyist photographers, it was perfectly natural for his grandfather and father to shoot pictures of young Chase as he excelled on the playing fields and courts. It's likely Chase reacted much the same as most athletic kids: happy to pose for his grandfather and father, but he would rather be competing.
It was only later, with a bit of maturity, that those photos had an important effect on Jarvis. He didn't just recognize the recorded moments in his athletic career. The emotions and feelings of the images began to have an impact. It compelled him to grab a camera and try to capture photos that also communicated emotion and passion. He took his camera and left the U.S. for six months and spent it doing nothing much more than photography. When he returned to Seattle, his hometown, it was clear to him that photography was his calling. It wasn't, however, until he began to sell fine art and license commercial images during graduate school that he quit school and went full time behind a camera.
Since then, Chase Jarvis' career has been much like an athletic competition—fast-paced, full of energy, innovative moves and always pushing himself to excel. Jarvis is also like a multi-sport athlete, the guy with three or four letters on his sweater in high school and college. Still photography may have been his entrée into the world of visual media, but he quickly had to try filmmaking, directing and producing. Like most people with an athletic mindset, he went at it full-throttle, creating short films and making a name for himself at U.S. film festivals.
As winning athletes (and photographers) often do, Jarvis took advantage of a big break during 2008, when he was selected to receive the world's first HD-DSLR camera from Nikon. With this new technology in his hands, and his alone, he quickly became the first choice to direct and produce TV commercials, shorts films and music videos. Apple, Nike, Starbucks and Pearl Jam and others were knocking at his door. He accepted their challenges and has proceeded to create a unique style that is in great demand.
It's clear that Chase Jarvis' vision exceeds the bounds of just photography, being that the artists that influenced him are Andy Warhol, Jean Michel Basquiat, Robert Rauschenberg, Jackson Pollack and many of their contemporaries. He has followed their lead by creating fine art that combines many contemporary visual elements, and has a voice in popular culture. His work with U.S. and international curators, museums, galleries and foundations comes from a desire to make creativity an "instant" and "live" experience and accessible to wider audiences than typical gallery-goers.
Within a relatively short period time, Chase Jarvis won numerous awards and was named by Photo District News (PDN) magazine as one of the top 30 most influential photographers of the first decade of the 21st century. He has also published three books. Seattle 100, Portrait of a City is a homage to his hometown and the diversity of its culture. Stevens Pass is a spectacular story of the ski area by that name. The third, The Best Camera Is The One That's With You, has received major media attention. It was released with a dedicated Web site and iPhone app. This app was an innovation in its own right, becoming the first by which images could be shared via social channels within the interface of the app, now a common feature.
This experience has led to Jarvis becoming a social media star with millions of subscribers and fans. Not only is Chase Jarvis invited to speak at major global corporate and university events, but also he is the "chancellor" of his own online educational institution, creativeLIVE.com, which was launched during March 2010.
People who read this PhotographyTalk.com article also liked: