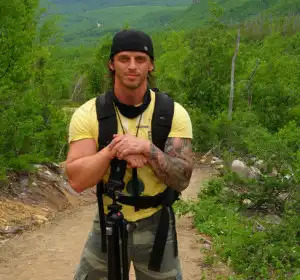 As if often the case for many professional photographers, Patrick Di Fruscia's path into the world of landscape and nature photography was not a straight line. He would have probably never become interested in photography if his boss hadn't asked him to learn enough skills to photograph the company's sport supplement products and the athletes and bodybuilders endorsing them.
The subject matter may have been unrelated (and eventually unexciting), but the experience helped Patrick develop the photographer's eye that allowed him to view landscapes and nature differently. This has led to career of worldwide travel, photos appearing in major publications and an opportunity to find and share the inner peace and beauty of the world in which we live.
What event or experience first attracted you to photography?
I used to be the marketing director of a sport supplement company. One day the CEO asked me to learn photography. He had grown tired of paying professionals photographers to take pictures of athletes and his product line.
At first, I thought this was an absurd request; but I decided to try it. He purchased my first camera, which was the Minolta Xtsi; so I tried to learn this great tool. I literally started reading everything I could find about photography, and quickly this task became a hobby. I was taking pictures of everything from lampposts to cars to flowers to insects. You name it.
When did you know that you wanted to pursue a photography career?
My hobby turned into a passion, and eventually a career, the day I took a road trip across the charming province of Quebec, which including going to the top of Mt. Ernest Laforce in the Gaspe Peninsula. I knew then that photography was my calling. It hit my like some sort of divine intervention… I wanted to experience, see and feel the beauty of our planet; and photography was the perfect medium to do so. Since then, my lifelong goal has been always to perfect my craft. I know this will be an endless curve and I will only have myself to blame if I don't reach my full potential.
Did you receive any formal photography education? Where? Degree earned?
I never took any courses beside some minor ones at the beginning. They taught me shutter speed and aperture. I then took it upon myself to read and practice as much as I could.
Were you influenced by a famous photographer's style? Who?
I can't say that I had any particular influence when I started photography. Today, there are so many incredible photographers with different styles that it is hard to pick one.
What was your first professional/commercial photography assignment?
I don't recall; but it must have been related to the fitness industry, since I was working for the sport supplement company I mentioned above. I photographed many fitness athletes and bodybuilders at the time. I am glad to have found my true calling with nature photography because fitness industry photography was definitely not for me.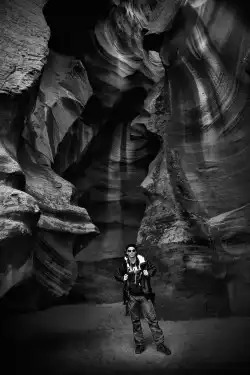 Do you specialize in a specific type of photography? Why?
Definitely!!! I shoot landscape and nature photography only and try to leave it at that. I don't want my passion to turn into a job by doing other assignments. People always expect me to be packing my camera, but this is far from the case. I simply love the feeling of inner peace nature provides me. It made me go beyond my limits to see places I could have never imagined I would be fortunate enough to witness during my lifetime. What makes this so exciting is that it's only the beginning.
How many years have you been a professional in this field?
I have been shooting for 12 and professionally for approximately 4 years.
What was your most memorable photography assignment/job/project?
I do not have a favorite place…each has so much to offer that when faced with that question I always answer, it will be the next location.
How would you describe your specific style?
It is images of nature that evoke a feeling of pure passion and inner peace that are aimed at creating awareness of the true beauty everywhere. I consciously developed an individual style, so when people see any of my photographs, they can almost automatically say, "It is a Di Fruscia." I think I have managed to do that to some degree, but I am aware that I will always have more work to do.
In which major publications have your images been published?
National Geographic, Outdoor Photographer, Outdoor Photography, Digital Photography, just to name a few.
Have you published any books: photography or instructional? Titles and years?
None yet. This is an area I have to admit that I always tend to procrastinate and tell myself I will do it after my next trip, and then off I go to another location. I need to release at least a coffee table book soon. As for instructional books, I see so many excellent books and how-to videos that I will leave that to those who are good at it. Not that I do not want to share my techniques, but all of mine are already available for anyone to learn. I've always been a bad teacher, but a very good learner.
Which photo of yours is your all-time favorite?
Again, this is exactly like asking me what is my favorite location; I do not have one. My favorite shot will be the next one that will appear in my portfolio. I become so familiar with my work that the newest images are always more appealing to me.
What is most amateur photographers' #1 mistake?
Spending too much time comparing gear, brands, pixels, etc. Use that time to go and shoot! It doesn't matter if you shoot with a Canon, Nikon, Pentax, etc. Buy a decent camera and shoot, shoot, shoot! This is the only way to actually learn. Nothing beats hands-on experience.
With what brand name equipment do you shoot: Camera, lens, etc?
I currently shoot with a Canon EOS 5D Mark II and Canon 70–200mm f/4 IS, Canon 24mm II Tilt Shift and Canon 100–400mm L lenses. I also use the Nikon 14–24mm lens with a Canon adaptor ring, as this is, according to me, the best, sharpest wide-angle zoom available now. I am also a very strong advocate of Lee Filters. I have recently had the opportunity to test the F-Stop Camera Bags and I must say that these are simply the best. The company spent the time to perfect its gear by asking the pros in the field what was needed. This resulted in the perfect camera bags. They make my life easier while shooting on location.
Do you shoot video and create multimedia presentations?
Yes, I started recently and I love to capture the locations I visit in videos as well as stills. I still need to perfect my video skills, but, nonetheless, I truly enjoy the experience. During the future, I plan on releasing a short HD video from each location I am fortunate enough to visit.
What is the most important lesson you learned during your career and what advice would you share with aspiring professional photographers?
You must create images that are emotional and carefully crafted, artistically. Aim to create a feeling of inner peace and an awareness of the world's true beauty. To appreciate this great craft, you must learn to let go, leave all your troubles behind and make this wonderful experience all about you. Do not, and I repeat do not, enter the world of photography simply to receive praise, ribbons, awards, etc. You might become discouraged and unmotivated by the numerous negative comments people say about your work. You clearly must learn to use criticism to your advantage and strive to perfect endlessly your craft. In all walks of life, the greatest masters and successful people have endured a battery of negative, unconstructive comments and opinions, but still made it to the top because of only one thing…they believed in themselves. We are often worth much more than we think. So, never despair; believe in yourself and let nature take its course.
Every time you are outdoors enjoying this great passion, stop for a minute and think that all this beauty you are witnessing is there just for you; no one sees exactly what you see, feels exactly what you feel and will capture exactly what you will capture. This will make each image you create a very special one that you, and others, will cherish forever. Let your emotions guide you through this incredible journey.
Nature and landscape photography is for everyone; you needn't climb the highest mountains or travel to distant exotic places. I am 100% confident that every person has a multitude of beautiful locations near their homes and can enjoy this incredible passion to the fullest. The beauty of nature is everywhere. I have taken many images in ordinary locations, but the trick is to open your heart and soul and be able to see the beauty in all places.
I recall a photographer from Singapore, when commenting on one of my pictures, that I was fortunate to live in an area so beautiful. He only wished to live in such a place to shoot landscape photography. The picture in question was taken in Ile Perrot, Quebec, a very ordinary location, and when I say ordinary, I mean it. Even people who are very familiar with that place do not believe that it was taken there. This shows that by using your imagination you can easily create a work of art from a location most people would classify as nothing special.
I remember thinking, "I would rather be in Singapore shooting instead of Ile Perrot." I quickly realized, however, that like most people (sometimes me included) the photographer from Singapore was trying to justify the fact that he wasn't shooting as much as he would love with an excuse, thus making him feel better. If landscape and nature photography is what you want to do and you truly feel the passion inside of you, then don't ever use excuses to avoid pursuing your dream. Make it a point to shoot landscapes and/or nature subjects at least once a week. I am fully aware that with work, family and other commitments it is not always easy to find the time, but you must do what will make you feel alive.
We are all born to create, in various forms (which I strongly believe). A person who cannot pursue and enjoy his or her passion will quickly feel like a person without a soul. Dr. Wayne W. Dyer says it so well when he states, "Do not die with your music still in you." That's my favorite quote and means do not die without accomplishing your passion or what you were born to do. In our case, we have to use the statement: "Do not die with your images still inside of you." Bring 'em all for the world to see and leave your footprints for generations to enjoy.
Patrick Di Fruscia's Web site is DiFrusciaPhotography.com. You can also follow him on Facebook: www.Facebook.com/DiFrusciaphoto
and Google+: Gplus.to/DiFrusciaphotography.
Recommended Reading:
Lonely Planet's Guide to Travel Photography
National Geographic Ultimate Field Guide to Travel Photography
Travels to the Edge: A Photo Odyssey
Travel Photography: Tread Your Own Path
Top Travel Photo Tips: From Ten Pro Photographers
Photos by Patrick Di Fruscia