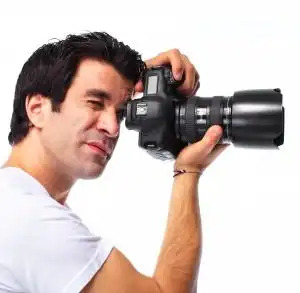 Starting a portrait photography business might be something you've always dreamed of. To be able to turn your love for photographing people into a business that can generate a comfortable income, what could be better? While it is perfectly achievable , it won't be easy. We've put together a list of 12 steps you need to check in order to have a chance of living your dream.
1. Know your craft
This should come without saying . Although success depends on a lot more than just being a good photographer, this is crucial. A lot of potential new clients will come from recommendations and word of mouth. If the first clients you land won't be pleased with what they paid for, chances are you'll be out of business pretty fast.
2. Have a business plan
Always keep in mind that this is a business at the end of the day. Make a solid plan for the future and make sure you include things like taxes, expenses, investments, daily rates and working days per year. You might not have the experience to do all this by yourself so the help a professional could come in handy.
3. Have the right equipment
Digital cameras are a lot more affordable than they were ten years ago, but nevertheless, if you want to be taken seriously as a professional , you have to use pro equipment. It comes at a cost and even if you might not be starting with a high end camera, make sure not to postpone a pro body purchase for to long as, it will damage the look of your business. Clients are aware of what pro equipment looks like and if you want to be taken seriously, there is no dancing around it. They'll also be expecting top quality, and that means full frame. Choice of brand is up to you. Nikon, Canon and Sony all make fantastic cameras.
4. Have the right glass
Having a full frame body will take you a long way, but mounting a lesser lens on it won't. Quality in portrait photography means prime lenses. The most popular focal lengths are 35mm, 50mm and 85mm. Ideally, you should have the faster versions like f1.2 or f1.4 . However, it's understandable that these might take a significant toll on your budget, and since there will be other investments to be made, it's ok to settle for the next best options. The f1.8 versions of these lenses are also very capable of delivering professional quality and they come at half the price of the faster ones.
5. Know your posing
Working with people means that each client has a different personality and level of experience. Most of them will probably be modeling for a professional for the first time. It could be quite intimidating and most of them expect to be given directions while in front of the camera. Posing is a must have skill for any portrait photographer. It takes some time to learn, but you can practice on family and friends. Here are five great books to help you study posing.
6. Know the industry you work in
It's no secret that the competition in any photography business is fierce. The market is over populated with photographers in some areas, and it takes quite a lot of effort to stay on top. Study your competition, study the price range in your local area and figure out what local clients expect in terms of photography services.
7. Aim to be different
It is precisely because of the fierce competition that you'll have to push your creative limits to deliver something that no other pro in your area can. Work for a personal look, a style that can be easily picked out from the photos of other photographers in the market.
8. Invest in lighting equipment
Natural light portraits seem to be very popular these days. A lot of photographers use only available light, and while some are very good at it and do so by choice, the truth is a lot of so called pros don't have the skills to work with artificial lighting. Besides eliminating location restrictions, mastering a flash or two can help you achieve that personal style your photos need. Study how light works and invest in some strobes. They don't have to be top of the line from day one. Until you fully master your lights, a medium kit will do. Also , here are some books on lighting to consider.
9. Have impeccable customer service
I can't stress this enough. You might check every other step on this list, if this one skill is missing, you'll be out of work in no time. People come to you, the photographer, often not knowing what to expect. Some are very emotional and get easily intimidated. It's crucial to make them feel as comfortable as possible when you have a camera on them. Use your sense of humor, be open an never have a superior attitude. You might find yourself in the other position, of having an intimidating client. Parents are often difficult to work with. Start a lighthearted conversation and take the focus of the posing from time to time. Whatever you do, make sure your clients don't leave your studio or the location with a bad mood.
10. Deliver something touchable
By this I mean something printed. No matter how much or how little you charge, people should get something other than just a DVD for their money. There's nothing like a printed album to fully show the beauty of your photos, so consider including even a small album in all your offers.
11. Marketing, marketing, marketing
It is highly unlikely that your rare talent and skill alone will get you and keep you in business. You might be the next Avedon, but do people know you exist? Marketing is crucial in any business, especially in a visual one. A good website, some printed albums, newsletters, business cards, you get the idea. Expect marketing to take up a large amount of your time and give it your best. If necessary, take some business classes.
12. Have a safety net
Going full time in portrait photography could push you to your limits, both psychologically and financially. I guess it happens when you open up shop in any business. It's a good idea to have some reserves to rely on, especially in the early days. Buy good gear, but don't spend every dime on it. Future income will take care of that, so focus on that.
Whenever in doubt, read this list again. Good luck!
Recommended Reading:
Image credit: kurhan / 123RF Stock Photo