Photography Reviews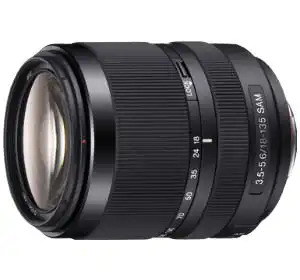 Sony's recently released its DT 18–135mm f/3.5–5.6 SAM lens, which provides just the right range of focal lengths for digital photography enthusiasts and amateurs who want an all-purpose lens for everyday photo opportunities. It includes the features and functions to assist the photographer with capturing spectacular wide-angle landscapes, travel and street images, portraits, groups and distant objects.
The Sony lens is compatible with APS-C cameras and is the equivalent of 27–202.5mm in 35mm format.
Sony has designed the 18–135mm lens with 14 elements in 11 groups and one ED (Extra-low Dispersion) glass lens element. The optical configuration also includes two aspherical lens elements to reduce most aberrations and lessen flare.
There were 6 real customer reviews of the DT 18–135mm f/3.5–5.6 SAM lens all giving it 4-5 star rating if you would like to read these reviews you can do so here.
Because this lens is built with Sony's Smooth Autofocus Motor (SAM), it operates quite fast. Sony has advanced its AF technology beyond the old screw-driven AF system controlled by the camera, which has resulted in this lens being the quietest of all of Sony's entry-level lenses. Digital photographers will appreciate the Direct Manual Focus (DMF) capability of the Sony 18–135mm. They are able to move easily from AF to MF and back again with their eyes looking through the viewfinder.
The outer construction of this Sony lens also deems it as an above-average product. The lens may be mostly polycarbonate plastic, but it's nice and thick and obviously durable. The quality of the workmanship is also evident in the metal mounting plate.
Digital photographers who like to travel or want to equip their camera with just one lens will also gravitate toward this Sony lens, as it weighs only 14 oz. (398g) and is just 3 x 3.3 inches (76 x 86mm).
Third-party tests have found the external controls of the Sony 18–135mm to be easy to access and use. The lens' zoom ring is marked with distances that match with a range of focal lengths, 18mm, 24mm, 35mm, 50mm, 70mm, 100mm and 135mm. It takes little effort to align the distances with a white line on the barrel. The lens also includes a zoom lock, plus the focusing ring turns a complete 360 degrees in either AF or MF modes. Selecting these modes is performed with a slider on the left side of the barrel.
Once again, the build quality of the lens is undeniable when operating it. The zoom ring is snug, but this doesn't cause any hesitation or jerky movements throughout the focal length range. Just a quarter turn is needed to complete the entire zoom from 18 to 135mm. Digital photographers will like the convenience of a lens with a front element that doesn't turn, so it is easy to use polarizing and other filters.
Third-party tests have also confirmed the image quality of the Sony DT 18–135mm f/3.5–5.6 SAM lens. Sharpness was well above average in the center as well as the edges and corners at all focal lengths and apertures. Resolution was its best approximately 2+/- stops below the lens' maximum aperture of f/22–36.
Common lens distortions, such as chromatic aberration, barrel distortion and vignetting are essentially non-existent or very difficult to identify. With some Sony Alpha DSLRs, such as the A57, aberrations and rectilinear distortions are correctable through the camera; so loyal Sony photographers will likely see even better images than those pairing the 18–135mm with another manufacturer's DSLR.
The lens is packaged with front and rear caps and a petal-shaped lens hood with a bayonet attachment, which can be reversed onto the lens for storage.
Click here to buy the Sony DT 18–135mm f/3.5–5.6 SAM Zoom Lens at Amazon
People who read this PhotographyTalk.com article also liked: