Photography Reviews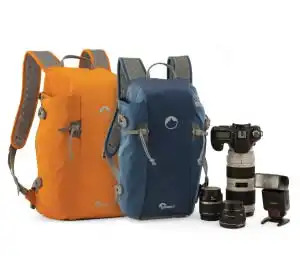 The digital photography equipment market is filled with dozens of bags, backpacks, travel cases, harnesses and other equipment-carrying devices, but few seem to target the serious adventure/action photographer as well as the LowePro Flipside™ Sport Series Backpack.
What is evident immediately is that the LowePro Flipside Sport Series was designed for the professional photographer who must carry a complete ensemble of equipment into the most rugged and barely accessible action and adventure shooting locations. You'll feel safer that your equipment is securely stored and your hands are free for photography and helping you climb and hike into the backcountry.
There were 2 real customer reviews of the LowePro Flipside Sport Series Backpack all giving it 5 star rating if you would like to read these reviews you can do so here.
The enormous interior space is 11" W x 7.3" D x 18.9" H (28 x 18.5 x 48 cm) provides plenty of room (with no crowding) for a full-frame DSLR with a grip and as much as a 500mm f/4 lens; as many as 2 additional bodies and 4 lenses; and all the smaller equipment, accessories and personal items the pro must take into the field. If this is your kind of backpack, then you'll also find additional space for a flash unit, a collapsible tripod and a laptop. LowePro made the interior of this bag almost totally customizable, so your equipment has clearly defined positions and doesn't rub against other items.
LowePro didn't stop there, however, adding its Hideaway Tripod Mount™ system and SlipLock™ attachment loops for critical support equipment, such as trekking poles. The backpack also includes a rain cover that tucks into its own compartment and there is a side pocket that accommodates a 1-quart plus (1 liter) reserve of water.
The LowePro Flipside™ Sport Series Backpack would be of little value if it weren't manufactured with very durable materials that could withstand any climate or digital photography challenge. The people at LowePro were ready to exceed the expectations of the pro adventure photographer with an exterior made from 600D Oxford Polyester PU CTD, 600D Ripstop Polyester PU CTD, 400G High Flo Mesh Polyester and 2mm Pearl Drop Neoprene. They then made the interior just as durable, but also soft enough to cradle and protect your equipment across the toughest terrain, with 280G Velex PU CTD, 160 Tricot Polyester and 210 Oxford Nylon PU CTD.
The LowePro Flipside™ Sport Series Backpack must have some heft to it to accommodate so much equipment. Add its 4.3 lbs. (2kg) and the weight of your gear and you have a considerable load to carry, but not to worry. LowePro has given this backpack shoulder straps and back padding that are the equivalent of any you would find on the best hiking and camping packs. You'll be a bit surprised at how comfortable you'll feel touting the LowePro Flipside Sport Series over hill and dale, but you'll be happy you chose it to be your sidekick.

Convenience is another important measure of the quality of a backpack for the professional action/adventure photographer. LowePro designed the Flipside Sport Series with a back flap that opens the entire height and width of the bag, so virtually any piece of equipment is easily accessible and still very secure.
Maybe, the most amazing feature of the LowePro Flipside™ Sport Series Backpack is that it is only $134.95 from Amazon. Professional photographers shouldn't be fooled by the low price; it's a high quality backpack that will protect the thousands of dollars you've invested in your precious equipment regardless of where you take it.
Click here to buy the LowePro Sport Series Backpack from Amazon
Photo Copyright © 2012 DayMen Canada Acquisition ULC
People who read this PhotographyTalk.com article also liked: