Landscape photography is a wonderful art, but also extremely difficult. Instead of working with models or objects that you can manipulate and move around, you have to adapt yourself to the landscape you're working with. This doesn't need to be a disaster; all you need is time, patience, and an eye for framing.
There are a lot of amazing articles out there offering up the best landscape photography tips.
However, there is one tried-and-true method to help learning any art, and that's studying the greats. By studying the creatives who generate the best landscape photography in the world, you can learn how to utilize other artists' techniques to improve your own work.
Here are 20 of our favorites. These top landscape photographers have their own unique ways of capturing incredibly stunning scenes.
Mitch Dobrowner
The work of Mitch Dobrowner stands out not only by his mysterious, yet brilliant imagery of landscapes, but also through his ability to capture the darkest and strangest scenes produced by mother nature. Mitch is not afraid to stand in the middle of a storm to capture the most outrageous beauty of the fury of nature in the American Midwest.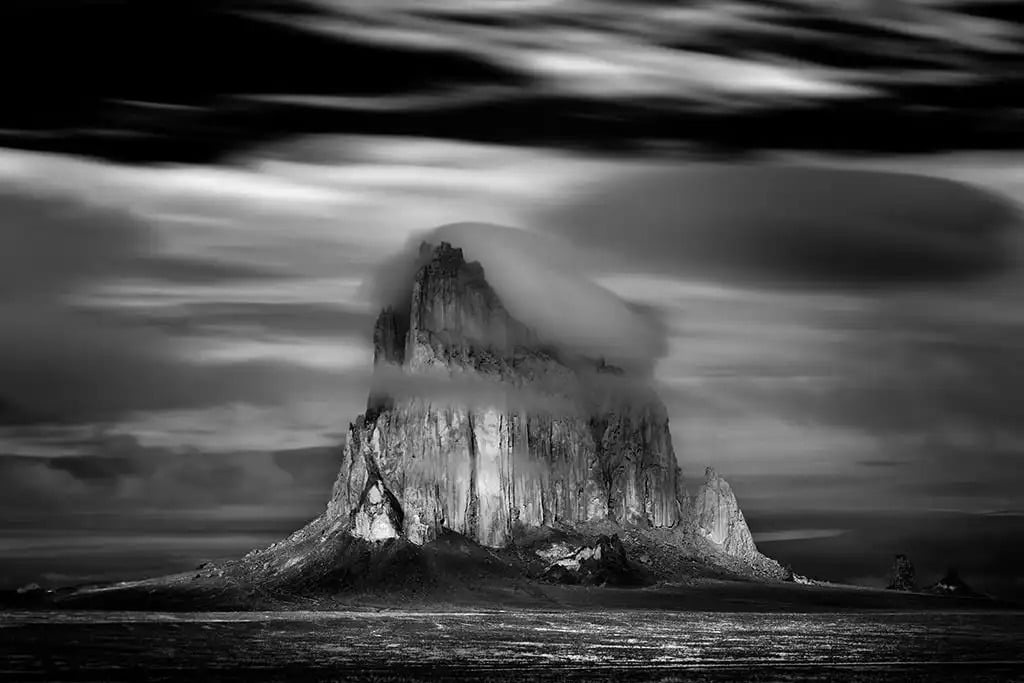 Copyright: Mitch Dobrowner

Copyright: Mitch Dobrowner
Nothing really says creepy and mysterious like fog, especially fog at sea. This picture by Mitch utilizes that feeling, and emphasizes it with the black and white aspect. The long exposure of the fog circling the mountain creates a hazy effect, one that would have fallen a bit short had the colors of the land and water been present.
Connect with Mitch:
https://www.facebook.com/mitch.dobrowner
Kilian Schönberger
Despite being colorblind, German photographer, Kilian Schönberger, "ooh's and ahh's" us with his ability to bring the emotion out of adventure. Killian predominantly focuses on foggy landscapes. He spends a lot of time hiking through mountain paths or forests with his lenses in tow while looking for vibrant landscapes.
Connect with Kilian:
https://www.facebook.com/KilianSchoenbergerPhotography/
https://www.instagram.com/kilianschoenberger/
Nicole Young
Nicole Young specializes in landscape photography along with food and travel. In addition to being a professional photographer, Nicole contributes to podcasts, writes for photography and post-processing magazines, and has written her own photography books!
In her beautiful, vibrant and inspiring work, Nicole has shown the incredible ability to utilize the
process of selective coloring.
Given all black and white, or all in color, Nicole's dog, Kodak, would get lost in the image. By utilizing infrared imaging with selective coloring to keep Kodak his bright golden color, Young draws the viewer's eye towards the dog, making him the center of the picture, even though he's on the side.
Connect with Nicole:
https://www.facebook.com/nicolesy
https://www.instagram.com/nicolesy/
Evgeny Yorobe
True San Diego native and landscape photographer, Evgeny Yorobe, loves to travel but always returns home and has a passion for both photography and his city. He strives to capture the beauty of his city through his lens. From small storefronts to gorgeous imagery of the surrounding bays and ocean, Evgeny recreates the world around him with vibrant, brilliant prints.
Connect with Evgeny:
http://www.facebook.com/EvgenyYorobePhotography
https://www.instagram.com/evgenyyorobephotography/
Brenda Tharp
Like many talented photographers, award-winning photographer Brenda Tharp has been featured in many books and magazines. Brenda is passionate about mother nature and strives to create photographs that tell a story by making good use of factors like composition and light.
Brenda has been featured in National Geographic Books, Outdoor Photography, Sierra Club Magazine, Nature Conservancy, and many more. She also shares her infinite wisdom in capturing exquisite images by teaching photographers across the country.
Connect with Brenda:
https://www.facebook.com/BrendaTharpFineArtPhotography
https://www.instagram.com/brenda_tharp_photo_tours/
Lace Andersen
Lace Andersen visited Kauai to spend a week photographing the island. It didn't take long for her to decide to move there. She spends her days camping, hiking, running, and taking pictures, though not necessarily all at the same time.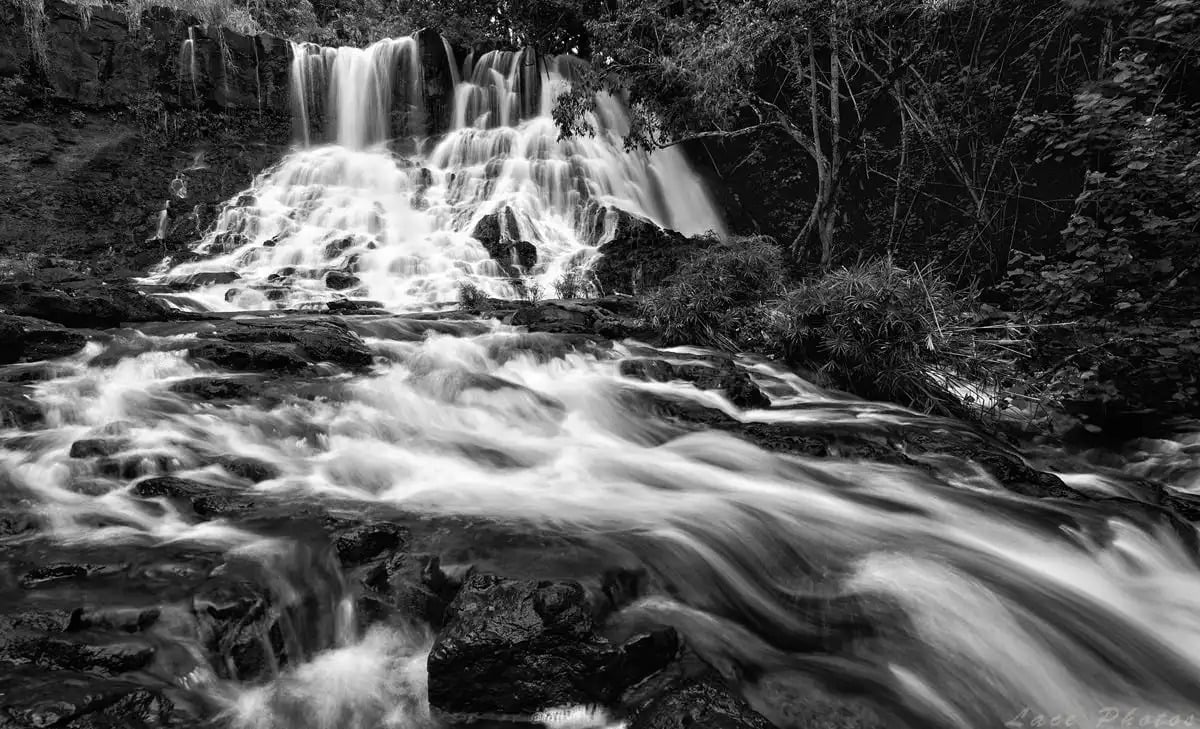 Copyright: Lace Andersen
One of the techniques Lace utilizes is a low shutter speed to capture water. By holding the shutter open for longer, the water becomes hazy in the image. This technique captures the movement of the water as it flows along.
Connect with Lace:
https://www.facebook.com/lace.andersen
David Carol
Inspiring photographer David Carol stresses the importance of composition in his photos, making sure to capture only elements necessary in the photo to create a "refined, organized and simple" image. Simple doesn't necessarily mean fewer elements - it just means capturing only what is needed to translate David's vision into a beautiful photo that tells his story.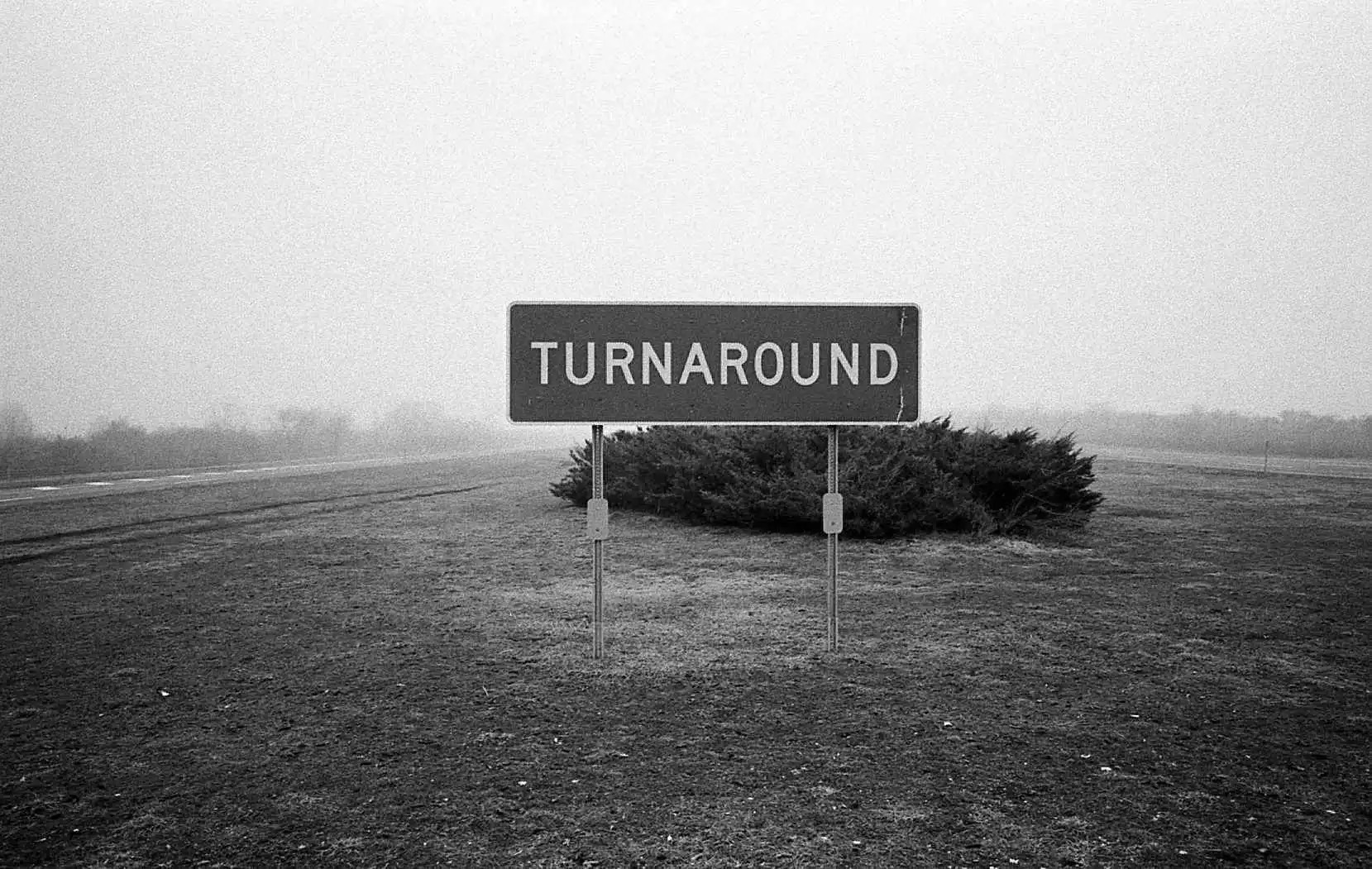 Copyright: David Carol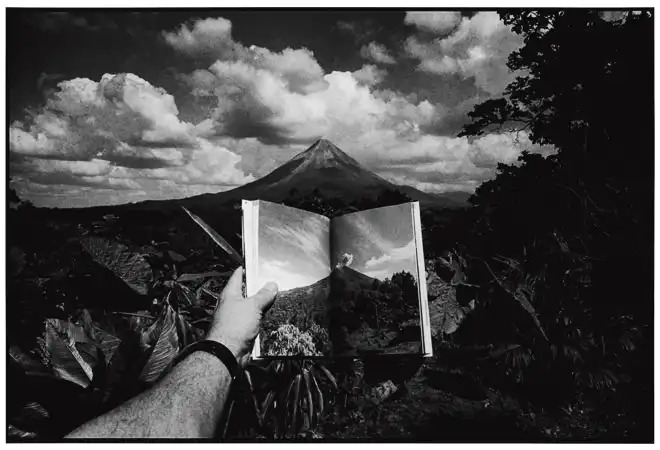 Copyright: David Carol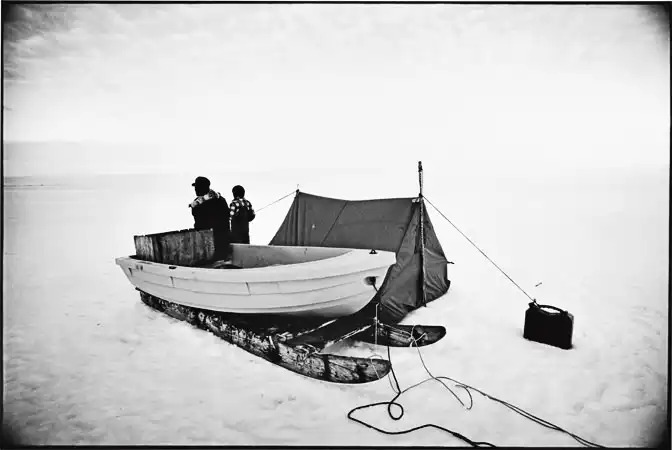 Copyright: David Carol

Connect with David:
https://www.facebook.com/david.carol.16
Lars Van De Goor
Forests and trees produce a feeling of exploration and adventure in humans. But how do you capture that feeling in a picture?
One great way to take a picture of trees is to show the trees interacting themselves. In Lars Van De Goor's above photo, the trees appear to be dancing with one another. He chooses to shoot trees that have intertwined branches or trunks to give them a human personality and help provoke human emotion in the viewer.
Connect with Lars:
https://www.facebook.com/LarsvandeGoor/
https://www.instagram.com/larsvandegoor/
Sapna Reddy
Another great way to capture forests and trees is to involve humans in nature so that you can highlight the relationship between the two.
Above is an example from landscape photographer Sapna Reddy who has a deep interest in places, people, and other cultures. In the photo above, a human (shown small) traverses through the woods. By putting the human subject in the background, Reddy emphasizes the size of the trees, creating a mystical effect of being lost in a large forest.
Connect with Reddy:
http://www.facebook.com/sapnareddyphotography
https://www.instagram.com/sapnareddy/
Arwen Dyer
Connect with Arwen:
http://www.facebook.com/arwendyerphotographer
https://www.instagram.com/arwendyer.photographer/

Conor MacNeill
Nothing creates more of a distance between eyesight and photograph than the night sky. The stars and the moon seem to be elusive to film. All you need is the ever important patience and time to capture the light.
Like this photo by travel and landscape photographer Conor MacNeill, you can use other sources of light - and other subjects - to create stunning night pictures. Instead of a picture where the sunlight drowns out the features of this structure, MacNeill uses the firelight to emphasize the structure and create and amazing image in the process. Night photos don't have to be all stars and cosmos!
Connect with Conor:
https://www.facebook.com/fellaphotos/
https://www.instagram.com/thefella/
Jennifer Adler
Jennifer Adler is known for her moving underwater photos that help to connect us with the world below. She has a love for the sea and holds a degree in marine biology. She uses her skills to bring beautiful images of the sea and its inhabitants to us land dwellers.
Connect with Jennifer:
https://www.facebook.com/jenniferadlerphoto
https://instagram.com/jmadler
Dave Allen
Dave Allen is an internationally recognized landscape photographer from North Carolina. Dave constantly strives to find new ways to look at things. He is continually looking for "wow" moments to capture. Many of his fine art prints focus on gorgeous landscapes like the Great Smoky Mountains National Park, Silky Mountain Waterfalls, wildlife, nature photography, and more.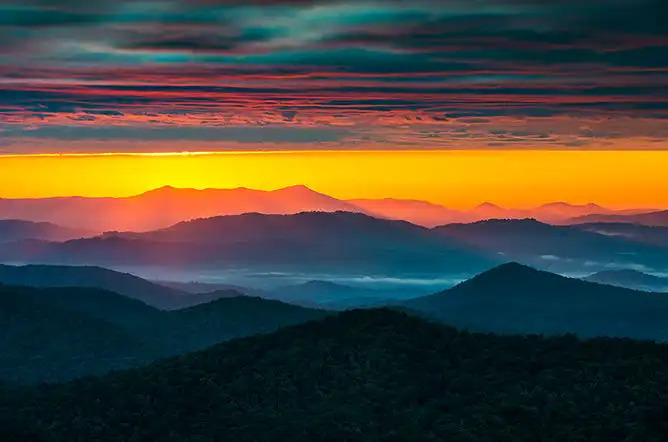 Credit: Dave Allen
Take a look at the photograph above to see Dave utilizing the rule of thirds. This aesthetic technique is used to balance images. When shooting landscape, if you make the split of land and sky 50/50, the image appears to be off balance. The openness of the sky outweighs the heaviness of the land. So to balance the image, you make ¾ of the image land and only ¼ sky, to help make up the difference.
Connect with Dave:
https://www.facebook.com/daveallenphotography
Reuben Wu
Creative Reuben Wu started out with roles like director, musician, and band member of UK electronic band Ladytron. As if that wasn't enough talent rolled up in one bundle, Reuben decided to take on another career path by becoming a photographer of cosmic proportion. Reuben specializes in stunningly colorful photographs of landscapes and worlds outside of our own.
Connect with Reuben:
https://www.facebook.com/ReubenWuMusicianPhotographer
http://instagram.com/itsreuben

Max Rive
Max Rive delivers a wildly beautiful array of adventure photography. From the age of five, he already had an appetite for the outdoors. Rive takes exciting scenery and develops it into heart-stopping imagery.
Connect with Max:
https://www.facebook.com/%252FMax-Rive-Photography-182378168614600%252F
https://www.instagram.com/maxrivephotography/
Todd and Sarah Sisson
Sarah Sisson is one-half of Sisson photography, which she co-owns with her husband, Todd Sisson. Together they put their photographic energies into landscape and nature photography in New Zealand. They started their endeavor in 1997 when they bought their first Nikon during a stay in Canada. The rest is history.
Connect with Sisson Photography:
http://www.facebook.com/sissonphotography

Julie Fletcher
Twelve years ago, Julie Fletcher hit the road and never looked back. Julie needed a break and left to discover all that the wilderness of Australia has to show. She has been on a photography journey ever since. She primarily emphasizes the beauty of Aussie beaches. She has won many awards and was recognized in the 2013 National Geographic Nature Competition.
Connect with Julie:
https://www.facebook.com/JulieFletcherPhotography
Mark Gray
Mark Gray had a near-death experience that caused a shift in life, leading to a passion for shooting astonishingly brilliant landscapes. The kicker is he often shoots them on film! He is known for his panoramic landscape photography. His artwork can be found in galleries throughout Australia.
Connect with Mark:
http://www.facebook.com/pages/Mark-Gray/99719420854
https://www.instagram.com/markgrayphoto/
Linda Wevill
Linda Wevill is a landscape and outdoor photographer from the UK. She loves photographing all areas of life from travel to still life, but she primarily specializes in landscape photography. Linda loves experimenting with various shutter speeds to help her capture the world around her as well as working with different layers. She has received numerous medals and awards around the world and is an active member of the well-known Royal Photographic Society.
Connect with Linda:
https://www.facebook.com/Linda-Wevill-Photography-832108423548224
Evgeni Dinev
Evgeni Dinev is a Bulgarian landscape photographer who began his career in 2007. Always on the lookout for fascinating landscapes, Evgeni finds ways to be in the right place at the right time to unlock the hidden secrets of nature that he captures in his photographs.
Connect with Evgeni:
https://www.facebook.com/evgenidinev