Photography Reviews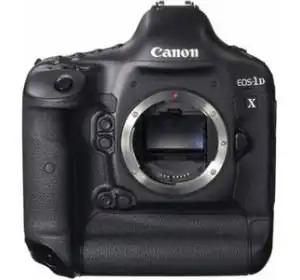 Canon's announcement of its new top-of-line, full-frame DSLR, the EOS-1D X, during early 2012 caused quite a stir, and then professional photographers attracted to what it appeared to offer had to wait until the summer to purchase one, as its release was delayed. Now, more than 6 months later, this DSLR powerhouse has been in the marketplace and the hands of many photographers and reviewers, much to their pleasure and satisfaction.
Want to see reviews from other photographers? Read them HERE on Amazon OR you can read reviews HERE on Adorama.
What has made many of them extremely happy is Canon's subsequent release of a firmware update, v1.1.1, which has expanded the auto-focus capabilities to include two that were missing, and troubled many photographers during their first look and trial run of the EOS-1D X. Now, the camera's 61-point High Density Reticular AF System provides AF point illumination (in red) during Al Servo AF and cross-type AF support is available at f/8. With these major tweaks, the EOS-1D X can certainly claim to be the auto-focus champion among DSLRs at the highest level.
Sports and wildlife photographers were already singing the praise of this full-frame camera because of the precise and speedy reaction time of the Reticular AF system. Many of these photographers were loyal users of the 5D Mark III, and when they noticed the EOS-1D X had the same 61-point AF system they weren't sure why they should move to the newer model. What they discovered on close inspection was that the 1D X was given a separate DIGIC 4 processor to serve the needs of the new 100,000-pixel RGB metering system. It drives Canon's Intelligent Tracking and Recognition system (EOS iTR), which allows the metering system to work in conjunction with Automatic AF point selection during the tracking of subjects within the AF boundaries. Not only has EOS iTR proven to determine very accurate exposure when lighting is complex and varied, but also is quite exceptional when it comes to analyzing face and color during subject tracking.
In one field test, the EOS-1D X showed just how much Canon has advanced the AF system for its best camera. The photographer was shooting a scene with a fast lens in very low light, but with the use of the dual, cross-central 5 AF points and an AF sensitivity of EV-2, the AF system did an outstanding job locking focus with incredible speed. The ID X also demonstrated its focus accuracy by quickly locking on subjects with low contrast and illuminated by weak light as well as subjects that were radically defocused.
Canon's approach with the EOS-1D X clearly shows how conscious the company is of the needs of sports photographers. This model has two new "case" pre-sets compared to the older Mark IV, which relate to the servo algorithms and how well they match the subject being shot and under what conditions. These particular case additions provide precise control of either the fast or slow speed of the AF-point auto switching.
The firmware upgrade has now made the Canon EOS-1D X a much easier choice for wildlife photographers, specifically. Precise auto-focusing at f/8 with the center point and the 61-point AF system give these photographers the opportunity to capture the sharpest images, especially under low light conditions. The 1D X also shines among wildlife photographers, with no sacrifice of full frame composition and RAW file capture at 12 fps. Continuous shooting has proven in the field to be very silent, even at that rapid rate, without disturbing wildlife, so the photographer's best vision can be recorded.
The Canon EOS-1D X DSLR Camera (body only) is available from Amazon for $6,728.99
Photo copyright © 2013 Canon U.S.A., Inc
People who read this PhotographyTalk.com article also liked:
Your feedback is important to thousands of PhotographyTalk.com fans and us. If this article is helpful, then please click the Like and Re-Tweet buttons at the top left of this article.